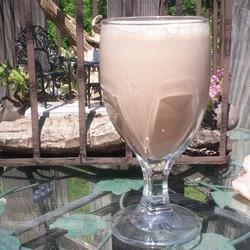 Delicious Chocolate Shake
Recipe by ESPERENZA
"This is a delicious, quick and easy recipe for a creamy, luscious chocolate shake!"
Ingredients:
Original recipe makes 1 servingChange Servings
2 scoops chocolate ice cream
2 tablespoons powdered chocolate drink mix
1 cup milk
Directions:
In a blender, combine ice cream, drink mix powder and milk. Blend until smooth. Pour into glasses and serve.
Resouce : http://allrecipes.com/